Home
Talk

9
215pages on
this wiki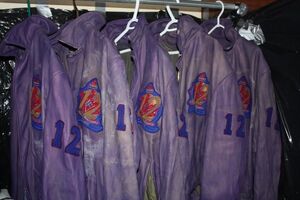 OFFICIAL DISCLAIMER
There has been a complaint by the university, so it is now necessary to state that this wiki is in no way affiliated with or endorsed by Queen's University, and by reading and participating in any activities contained within you assume all liabilities and risks. Don't drink enough to endanger yourself or others. That's just stupid.
Welcome
Welcome to the GPA Bars Wiki!
PLEASE FEEL FREE TO HELP EDIT, making sure to properly categorize your entries.
Also, vandalizing wikis is worse than going to Western. 'Nough said.
Bar Requirements
In order for any Eng Frosh to be allowed to sew bars onto their GPA, they must have written all of their finals in the second semester. No bars are allowed on their GPA until then, with the punishment being having their sleeves ripped off by an upper year.
Bar Categories
Essential Bars - Every GPA needs these
Extracurricular Bars - School condoned activities & residence bars
Experimental Bars - New bar ideas go here
Shenanigans - Not quite so condoned activities